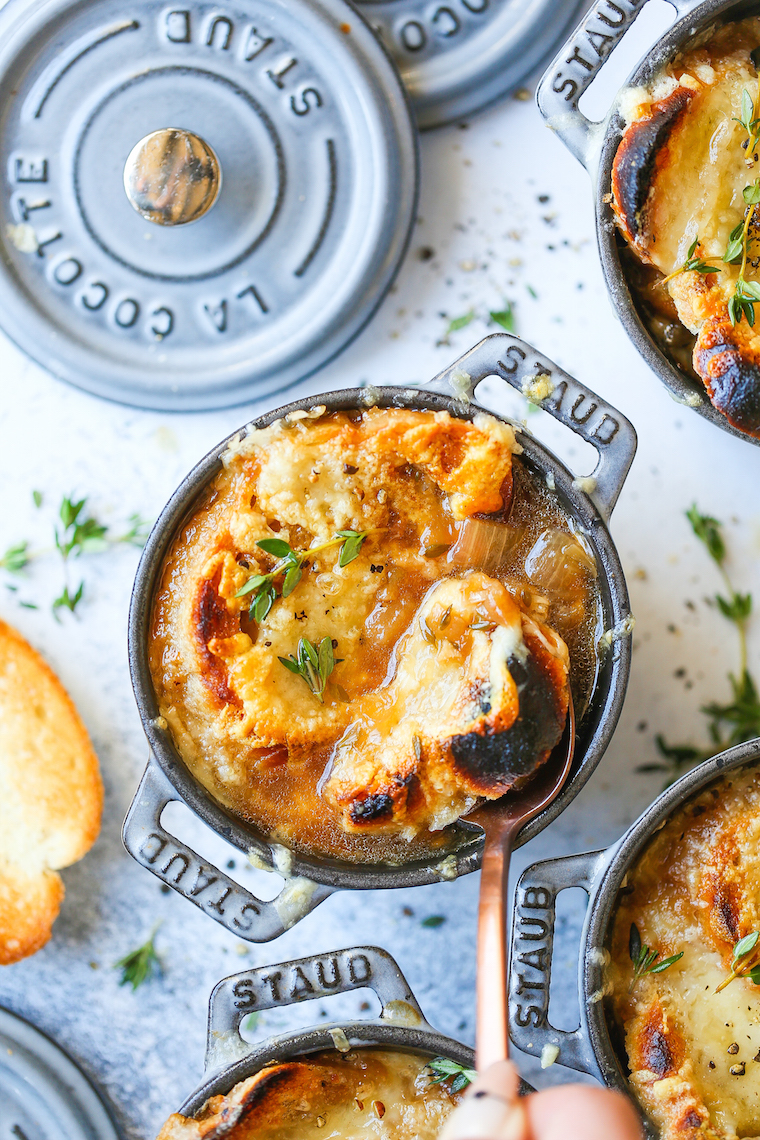 Made with perfectly caramelized onions, fresh thyme sprigs, crusty baguette slices and two types of melted cheese right on top!
INGREDIENTS:
1/4 cup unsalted butter
3 pounds (about 5 medium) sweet onions, sliced
2 cloves garlic, minced
1/3 cup dry white wine
6 cups beef stock
4 sprigs fresh thyme
2 bay leaves
2 teaspoons white wine vinegar
Kosher salt and freshly ground black pepper, to taste
12 (3/4-inch-thick) French baguette slices
1 cup shredded Swiss cheese
1 cup shredded Gruyère cheese
DIRECTIONS:
Melt butter in a large stockpot or Dutch oven over medium heat. Add onions, and cook, stirring often, until deep golden brown and caramelized, about 30-40 minutes.* Stir in garlic until fragrant, about 1 minute.
Stir in wine, scraping any browned bits from the bottom of the stockpot.
Stir in beef stock, thyme and bay leaves. Bring to a boil; reduce heat and simmer, stirring occasionally, until slightly reduced, about 15-20 minutes. Remove and discard thyme sprigs and bay leaves.
Stir in white wine vinegar; season with salt and pepper, to taste.
Preheat oven to broil.
Place baguette slices onto a baking sheet. Place into oven and broil until golden brown on both sides, about 1-2 minutes per side; set aside.
Divide soup into ramekins or ovenproof bowls. Place onto a baking sheet. Top with baguette slices to cover the surface of the soup completely; sprinkle with cheeses. Place into oven and broil until golden brown and cheeses have melted; about 2 minutes.
 Serve immediately.
By: Chungah
(Grabbed from: https://damndelicious.net/2019/01/04/classic-french-onion-soup/)