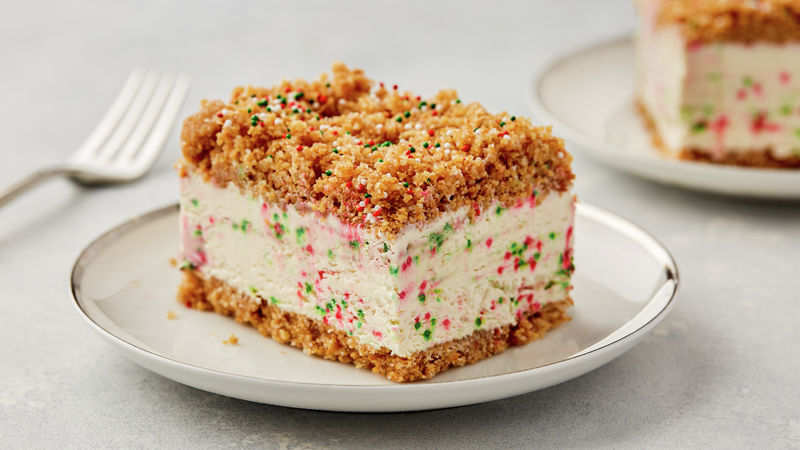 Inspired by the classic sugar cookie, this festive frozen cake is stuffed with sprinkles, a kiss of almond flavor, a splash of rum and of course, loads of crunch.
Ingredients
16 Nature Valley™ crunchy granola bars Oats 'n Honey, crushed
2 (8 oz.) blocks cream cheese, softened
1 (14 oz.) can sweetened condensed milk
1 (8 oz.) container extra creamy whipped topping
1/2 teaspoon pure almond extract
1 tablespoon spiced rum or vanilla
1/3 cup Betty Crocker™ Decorating Decors nonpareils (red, white and green)
Steps
1. In a large bowl, stir together crushed granola bars, melted butter and sugar until well mixed. Press half of the mixture into a 9×9-inch baking pan that has been generously sprayed with nonstick baking spray.
2. In a mixer, beat together cream cheese, sweetened condensed milk, whipped topping, almond extract and rum.
3. Fold in nonpareils, reserving about 1 teaspoon for the topping.
4. Spread whipped mixture on top of crust. Top with remaining granola bar mixture and sprinkle with reserved nonpareils. Cover with plastic wrap and freeze until firm, about 4-6 hours.