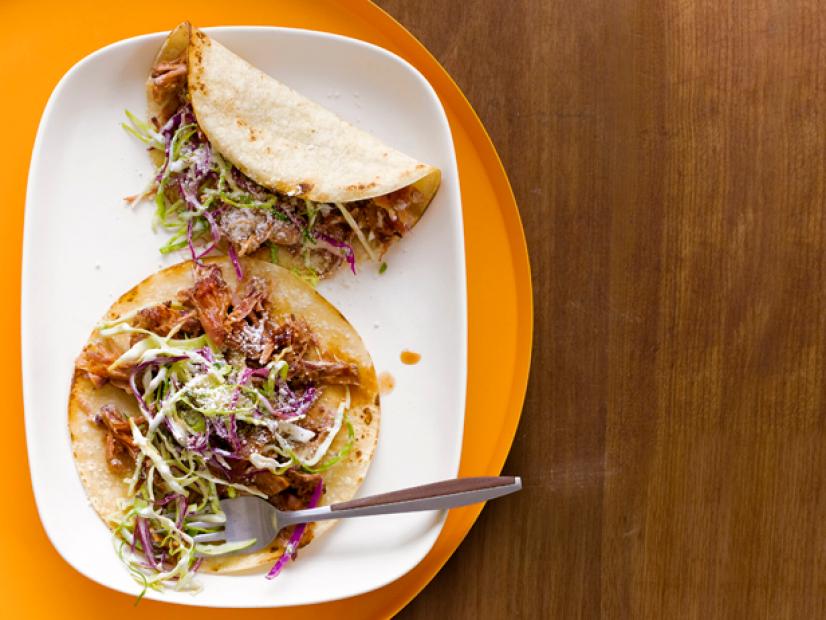 Photograph by Andrew McCaul
1/2 pound bacon, thinly sliced crosswise
2 large onions, halved and thinly sliced
1 carrot, quartered
1 stalk celery, quartered
3 cloves garlic
1 jalapeno pepper, stemmed and seeded
2 pounds boneless pork shoulder, cut into 6 pieces
Kosher salt and freshly ground pepper
2 tablespoons extra-virgin olive oil
3 tablespoons tomato paste
2 tablespoons all-purpose flour
2 cups dry red wine
1/2 orange
1 teaspoon dried oregano
2 bay leaves
1 to 2 cups beef stock or broth
1/2 cup sour cream
12 to 16 corn tortillas, warmed
3/4 cup grated parmesan cheese
Fennel slaw, for serving (below)
Cook the bacon in a Dutch oven over medium-low heat until crisp, 10 to 12 minutes. Drain on paper towels. Add the onions to the drippings in the pot; cook, stirring, until golden, about 30 minutes. Transfer to a bowl.
Meanwhile, finely chop the carrot, celery, garlic and jalapeno in a food processor. Preheat the oven to 325 degrees F.
Pat the pork dry. Season with salt and pepper. Warm the olive oil in the Dutch oven over medium-high heat. Working in batches, brown the pork on all sides, 8 to 10 minutes per batch. Transfer the meat to a plate.
Add the carrot mixture to the Dutch oven and cook, stirring, about 3 minutes. Stir in the onions and tomato paste; cook 3 minutes. Sprinkle in the flour and cook, stirring, 2 minutes. Add the wine and bring to a boil, then simmer until reduced by half, about 8 minutes.
Return the bacon and pork to the pot. Squeeze in the orange juice, then add the spent peel. Add the oregano, bay leaves and enough stock to reach the top of the pork. Cover, transfer to the oven and cook about 3 hours.
Transfer the pork to a bowl using tongs, then shred. Season with salt and pepper. Strain the sauce and return to the pot; add the solids to the bowl with the meat (discard the bay leaves and orange peel). Boil the sauce over high heat until thickened, about 2 minutes. Add the sour cream and season with salt and pepper. Fill the tortillas with the pork; drizzle with the sauce and top with the cheese and slaw.
Fennel Slaw:
Mix 1/4 cup mayonnaise, 1 tablespoon red wine vinegar, 2 tablespoons orange juice, 1 teaspoon sugar, 1 minced jalapeno, 1/2 teaspoon each dried oregano and cumin, and some fennel fronds in a large bowl. Toss with 2 thinly sliced fennel bulbs, 2 cups thinly sliced cabbage, 4 sliced scallions, 4 strips crumbled bacon, and salt and pepper.