This Triple Layer Boston Cream Pie is a CLASSIC if there ever was one! A delicious rum infused cake, topped with vanilla bean pastry cream and homemade chocolate ganache! A rich and wonderful New England dessert!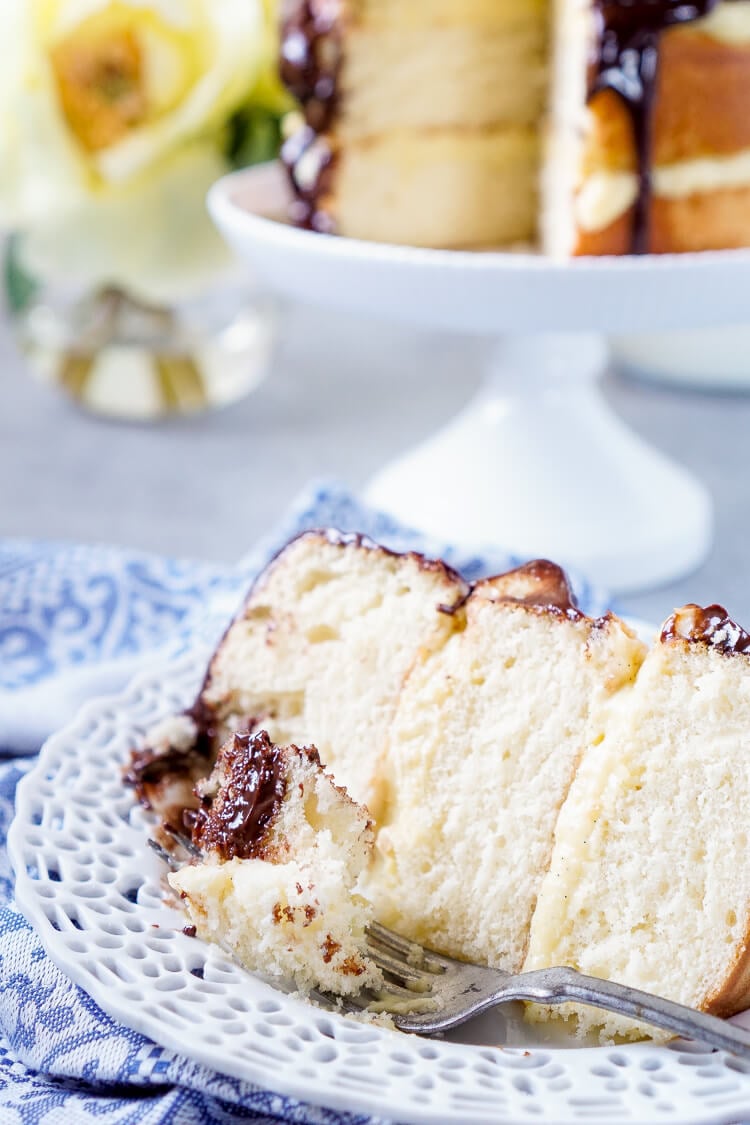 Ingredients
Pastry Cream:
1 1/3

 

cups

 

whole milk

1

 vanilla bean 

split lengthwise, paste scraped out

4

 

egg yolks

1/2

 

cup

 granulated sugar

2

 

tbsp + 2 tsp

 

cornstarch

1

 

tbsp

 

unsalted butter
Ganache:
1

 

cup

 

bittersweet chocolate chips

3/4

 

cup

 

heavy cream
Instructions
Pastry Cream:
Bring the milk, vanilla bean, and vanilla bean paste to a boil over medium heat in a small saucepan, whisking occasionally. Once it starts to boil, immediately remove it from heat and set aside for 15 minutes to infuse.

In a medium-sized bowl, vigorously whisk together eggs and sugar for about 2 to 3 minutes. Add in cornstarch and continue to whisk vigorously until lumps are gone.

Remove the vanilla bean pods from the milk and throw away. Then whisk in about a 1/4 cup of the vanilla milk into the egg mixture, measurement doesn't need to be exact, you just need to temper the eggs. Once the milk is fully incorporated, whisk in the remaining milk and set the saucepan aside, you'll need it in just a minute.

Pour the mixture through a sieve back into the saucepan, cook over medium-high heat, whisking constantly until cream begins to thicken and boil. Remove from heat and stir in the butter until completely melted.

Pour into a bowl and cover with plastic wrap, making sure the plastic wrap gently touches the top of the pastry cream, chill in the fridge for 2 hours.
Cake:
Preheat oven to 350 degrees F.

Spray 3 6-inch pans (or 2 9-inch pans for a double layer) with cooking spray, cut out parchment paper for bottoms of the pans. See how 

here

.

With a hand or stand mixer fitted with a whisk attachment, beat butter and sugar together until light and fluffy on medium speed. Beat in eggs one at a time until mixture is fluffy and pale yellow.

Add flour, salt, and baking powder to a small bowl and add milk, rum extract and vanilla extract to a measuring cup. Beat into the batter alternating between the two. Scrape down the sides of the bowl and then beat on high for 3 minutes.

Add 2 cups of batter to each 6-inch pan and bake for 30 to 35 minutes until toothpick comes clean from the center.

Run a paring knife around the edge of each cake and flip onto a cooling rack to cool. Once cakes have cool, prep the ganache.
Ganache:
Add heavy cream to a small saucepan and bring to a simmer. Add chocolate chips to a small bowl and pour hot cream over them, let sit for 5 minutes. The stir until a rich chocolate ganache forms, let sit for 5 minutes.
Assembling:
Gently cut the tops off of 2 of the 3 cakes with a bread knife or cake wire, place one cake layer on a cake stand or plate. Use a spoon to add half of the pastry cream on top of the cake and use the back of the spoon to spread it out evenly. Repeat for the next layer.

Add the uncut layer of cake to the top, gently pressing down so the layers adhere to each other. Pour prepared ganache over the top of the cake. You may not use all of the ganache on the top of the cake and if you're serving soon, reserve some to pour over the slice for the crazy chocolate lovers!
By: Rebecca
(Grabbed from: https://www.sugarandsoul.co/boston-cream-pie-recipe/)