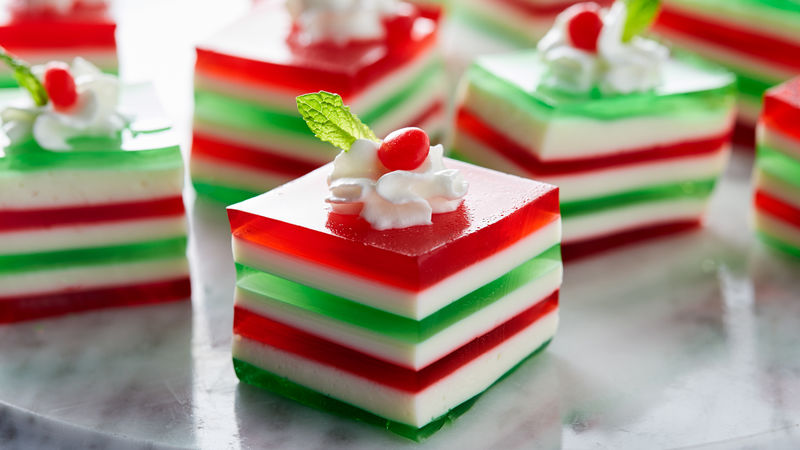 These Holly Jolly Jelly Shots are festive finger food spiked with vodka for a playful holiday party treat.
Ingredients
1 box (3 oz) Jell-O™ cherry
1 box (3 oz) Jell-O™ lime
3 packets unflavored gelatin
1 can (14 oz) sweetened condensed milk
36 dollops whipped cream (for garnish)
36 mint leaves (for garnish)
72 small red candies (or 36 if using just one for garnish)
Steps
1. Lightly coat an 8- or 9-inch square dish with cooking spray, and then using a paper towel, wipe out the dish. It will leave a light residue to help unmold your shots, but it won't affect the taste.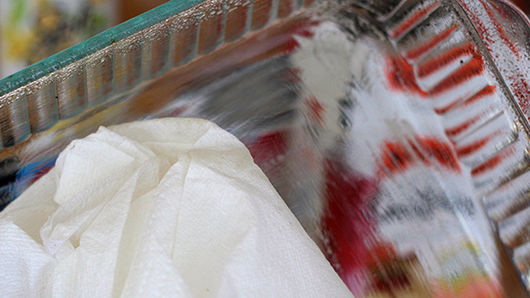 2. For red layer, sprinkle half of a packet of gelatin over 1/4 cup of water. Allow it to soak in a minute or two. Add one box of the cherry gelatin, along with 1 cup boiling water. Stir until everything has dissolved. Add 3/4 cup of vodka. Repeat the same process to make the green layer.
3. To make the white layer, sprinkle two packets of gelatin over 1/2 cup of water. Allow it to soak in a minute or two. Pour in 1 cup of boiling water and one 14-ounce can of sweetened condensed milk. Stir until everything is thoroughly mixed and gelatin is dissolved. You'll have approximately 3 cups of liquid. Allow to cool to room temperature.
4 .Pour half of the red mixture into the prepared pan. Place pan in refrigerator to set, about 20 minutes or so. Once set, add 1/3 of the white mixture to the top of the red mixture. Pop any air bubbles and return to fridge to set for about 20 minutes. Repeat with half of the green mixture. Then white, then red, then white again, then green. Allow finished pan to set another 2-3 hours, or overnight.
5. When you're ready to serve, gently pull the edges away from the pan, and invert onto a cutting board. Slice into even squares. (Alternately, you can just cut in the pan itself, but it might be harder to remove the first few squares).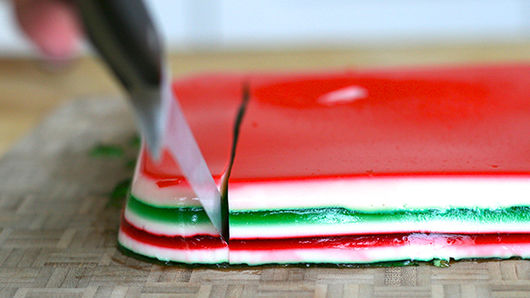 6. Place on serving platter and top with whipped cream, using a piping bag or can. Top with a small mint leaf and a red candy (or two) to simulate a holly leaf.