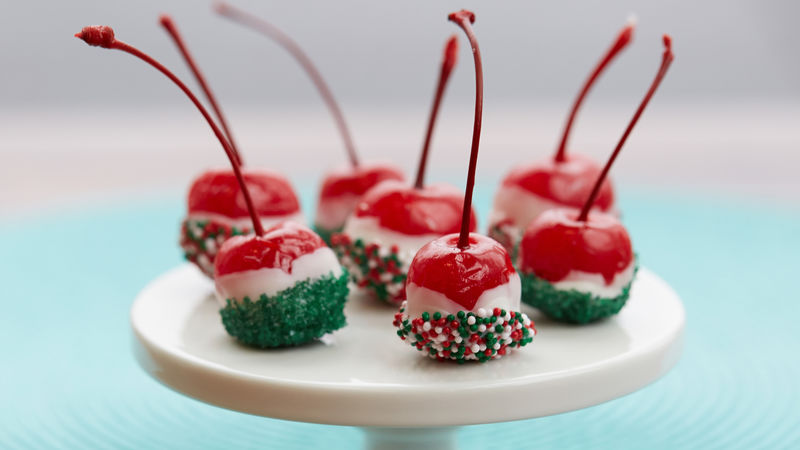 These vodka-soaked cherries are sure to be a hit at any adult holiday party.
Ingredients
1 jar (10 oz) red maraschino cherries with stems
1/2 cup vanilla-flavored vodka
2 squares (about 3 oz) vanilla-flavored candy coating (almond bark), chopped (from 20-oz package)
1 tablespoon each green crystallized sugar and holiday nonpareils
Steps
1. Drain cherries; discard cherry juice. Return cherries to jar. Pour vodka over cherries in jar; replace cover. Refrigerate 12 to 24 hours.
2. Line large cookie sheet with cooking parchment paper. Drain cherries; discard or use vodka in your favorite cocktail. Pat cherries dry with paper towels.
3. In medium microwavable bowl, microwave candy coating uncovered on High 45 to 60 seconds, stirring until melted and smooth. Dip bottom half of each cherry into candy coating, then into green sugar. Place on cookie sheet. Let stand about 10 minutes or until coating is firm. Store tightly covered in refrigerator up to 2 days.
By: Tablespoon Kitchens
(Grabbed from: https://www.tablespoon.com/recipes/boozy-christmas-cherry-bombs/a1b1b3d7-e3a3-4a95-b489-014bc32be6ec)